Logitech 3000 and 4000
Both work very well. Driver: pwc/pwcx. --
KennethLavrsen
- 15 Sep 2004 The new pwc-only driver works well with my 4000 at 640x480. A great improvement over the Labtec listed below. Note that the 5000 is not yet supported by the pwc driver. --
MarkTranchant
- 20 Apr 2006 There seems to be no actual driver available for kernel >2.6.28. :-/ --
NikolaiBerlin
- 05 May 2009
Logitech Sphere
Pan and tilt is supported by Motion. You need a faily new pwc/pwcx driver to use pan/tilt. See also this FAQ entry:
FrequentlyAskedQuestions#I_get_errors_with_Logitech_Spher
. See also
LogitechSphereControl
. --
KennethLavrsen
- 15 Sep 2004
Logitech Quickcam Zoom (New Model)
Works quite well with the pwc driver. When loading the module, use the parameter:
power_save=1
in order for the camera to work. Picture quality and light sensitivity are much better than my previous Creative Webcam Pro. --
AndrewHamilton
- 08 Feb 2005
Logitech Communicate
It works perfect using the driver from
http://home.mag.cx/messenger/
(modified qc-usb) -- Wouter de Vries - 20 Oct 2005
Logitech Quickcam Web
QC-USB Driver (
http://qce-ga.sourceforge.net/
) Works very well at 320x240 with Cambozola applet and
MjpegProxyGrab
! --
JeromeV
- 23 May 2006
Another Fry's special ($22.99 with $20 rebate on 12/26/06). I had a bit of a hassle getting /dev/video0 to appear - apparently the camera needed the gspca driver, not the spca5xx driver (lsusb gives ID 046d:092e Logitech, Inc.). Although the box states "Video capture: 640x480 pixels (SW enhanced)" and also "Quality CIF (352x288) CMOS webcam", setting the resolution to 640x480 in motion.conf crashes motion, and 352x288 gives no image - 320x240 works. Here is my mascot: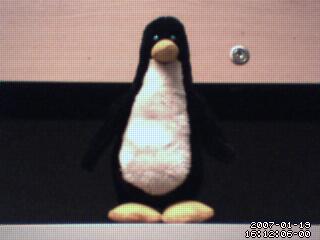 --
ChrisJenks
- 19 Jan 2007
Logitech OrbitMP ( 2006 model, 046d:08cc )
This webcam is a new "evolution" of logitech sphere/orbit that works with pwc. It supports MPJEG and YUYV palettes using uvcvision driver ( svn -r79 ). Tested with motion svn r164. --
AngelCarpintero
- 27 Jan 2007
Logitech Quickcam Fusion
Works wonderfully. Some caveats during running: only appears to work with SVN release of uvcvideo, in non-daemon (-n) mode. Also a little spotty with the driver. My workflow for running the device looks something like:
# rmmod uvcvideo
# modprobe uvcvideo
# chmod 664 /usr/v4l/video0
# exit
$ screen -dmS motion motion -n Which reinitializes uvcvideo, changes the permissions such that a regular user can read the device, then starts motion in a screen session as a normal user.

--
TomR
- 23 Oct 2007
Logitech Quickcam for Notebooks Pro (Old model)
.. work very well with motion. No specific motion configuration. --
EricBEAUFILS
- 09 Nov 2006
Logitech Quickcam Pro 9000
Works. Tested with motion 3.2.12, Ubuntu 11.10. --
LjN
- 20 Feb 2012
Logitech Quickcam Ultra
.. had to use mjpg-streamer to make it into a netcam. Uses lots more cpu this way. -- Jon Zeeff - 29 Sep 2009
Logitech 1080p C910
.. works well out of the box, no custom config required. Using Ubuntu 9.10, motion 3.2.11. Only issue is that I cannot get 1600x1200 resolution to work yet, I simply get a black image. 1280x720 works perfectly - very nice image from this camera with Zeiss optics. --
TuhaTom
- Jan 28 2011
Logitech C310
Works on a Raspberry Pi running Raspbian Wheezy and motion 3.2.12. (didn't test it on a real machine) I had to rebuild libjpeg8 to get MJPEG to work without echoing the "Corrupt JPEG data: X extraneous bytes before marker" error. See (
http://www-personal.umd.umich.edu/~dennismv/corruptjpeg.html
) on how to fix it. -- Benoit - 06 October 2012
Logitech C270 (720p)
Works out of the box without any custom configuration. Using Debian Wheezy (testing) with motion 3.2.12. -- Szewski - 09 May 2011 Does not work with Motion on Ubuntu 10.04 64-bit. It outputs this error:
Corrupt JPEG data: 1 extraneous bytes before marker 0xd3 [1] mjpegtoyuv420p: Corrupt image ... continue
. --
GeoffreyVanWyk
- 2 November 2012 Works out of the box with Motion on Ubuntu 12.04 64-bit. --
GeoffreyVanWyk
- 3 November 2012
Logitech C210
Works well @ 640x480 in
Ubuntu
12.04,
Compaq
Evo D510
(P-IV-1500/768MB) with
kmotion
--
EvgenyAnanyev
- 31 Oct 2012
Works on Raspberry Pi, Model B (512MB Ram) under Raspbian Jessie @ 640x480 and motion 3.2.12.
MaxRate
currently set to 100 and is jittery but some fine tuning will hopefully smooth that out. Pi is on wired LAN. - 15 Nov 2015
Logitech C920
Works on a Raspberry Pi running Raspbian Wheezy and motion 3.2.12. Works @ 2304 x 1536, albeit at ~ 1 fps. Works at a range of resolutions listed under v4l2-ctl --list-formats-ext --
AlStewart
- 26 Aug 2013
Logitech C905
Works well @640x480, @800x480, @768x576 (auto converting to 800x600, but direct 800x600 doesn't work), @1280x720 (only Ubuntu). Works on Raspbian Wheezy with motion 3.2.12 on a Raspberry PI model B at 1-3 fps. Works on old Dual-core laptop Ubuntu 12.04.2 LTS with motion 3.2.12 at 10fps --
HarryVanDerWolf
- 09 Jun 2014