Blowing The Dust Off The Speakers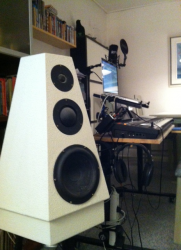 I felt it was time for me to upload a hard rock piece. The kind that can blow the dust off the speakers.
Lots of guitars. Some tonewheel organ. A few synth sounds. And some hard beating drums. Let's ROCK!
Picture shows one of my good old wonderful loudspeakers next to my keyboard setup. I built the speakers myself about 25 years ago based on a project made by one of my fellow students who later started a high end Hi-Fi company. They have been upgraded once. They have a fantastic transparent sound for any kind of music.
Genre: Rock
Artists: Kenneth Lavrsen
Composer: Kenneth Lavrsen
Lyrics:
Published: 28 Jul 2012
Copyright: 2012