Comet On Collision Course With Earth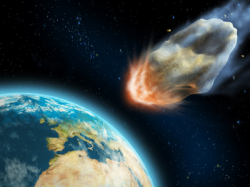 So today I decided to send a comet on a collision course with earth. A comet that sneaked in behind the sun where noone can see it. And suddenly it was there heading straight for us. In 4 minutes and 34 seconds after you press play, it is all over.
What are you going to do the last 4:34 minutes you have left?
Genre: Pop
Artists: Kenneth Lavrsen
Composer: Kenneth Lavrsen
Lyrics:
Published: 07 Apr 2013
Copyright: 2013