Dancing Pipes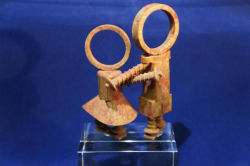 Dancing Pipes is an upbeat piece of electronica with strong melody lines and a rhythm that should make sure foot rock as you hear it.
It started as a track with organ and reel pipe instruments but it was very boring and I changed everything to this happy techno-like piece. Only one pipe organ remained which is blending in and the title of the song.
I made this in Garageband last year and gave it some update in Logic adding some pieces to the song that I felt was missing.
The song ends a little surprising with a tune with a bit of Irish folk feeling to it. I may one day build a new song based on this theme.
Genre: Electronica
Artists: Kenneth Lavrsen
Composer: Kenneth Lavrsen
Lyrics:
Published: 08 Mar 2012
Copyright: 2012