Hymn Of Peace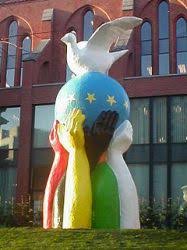 Hymn of Peace
Image the "Statue of Europe" which is also known as "Unity in Peace".
It has an interesting history in itself and matches pretty well my idea behind the music.
http://en.wikipedia.org/wiki/Statue_of_Europe
Genre: Classical
Artists: Kenneth Lavrsen
Composer: Kenneth Lavrsen
Lyrics: Kenneth Lavrsen
Published: 27 Oct 2012
Copyright: 2012 Lyrics I did not record these lyrics since I cannot sing like a choir. But sing along.
No more bloodshed
Life of happiness
People united
With joy, and love, and peace