March Of The Crabs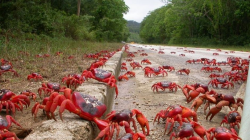 March Of The Crabs. The famous event on Christmas Island where millions of red crabs migrate to the ocean and roads are closed.
A rock and roll piece.
Lovely to be back making music. I have had family visiting the past 3 weeks so it has been impossible to find time to make and listen to music.
Genre: Pop
Artists: Kenneth Lavrsen
Composer: Kenneth Lavrsen
Lyrics:
Published: 05 Jul 2014
Copyright: 2014