The Hardware Team (Empty Tables, Empty Heads)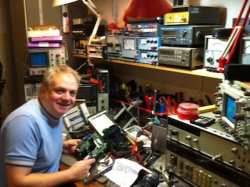 I performed this song on 14 Dec 2012 at a Christmas Party in my workplace (Motorola Solutions, Denmark), with the Motocare Boy Band.
There is a funny story behind it. A few months ago we were moving around in our building and it was a bit messy some places with moving boxes etc. So the facility department and some Engineering Services staff (all women) made a competition with a prize to the team with the prettiest office area. I lead a hardware engineering team that develops huge human size base stations. We knew that no matter what we did we could never win. And naturally the winners were some people that only have a desk, a computer, and a phone.
And on top of it, my team won a prize for the ugliest office area. The prize was a plastic bucket with soap and sponges and other cleaning stuff.
We took our sweet revenge performing this song at the company party smiley
I want to say thanks to Stan Loh, for helping me getting the right bite in the lyrics as a ghost writer improving my words in first two verses.
I will be uploading one more song that we also performed a little later.
Genre: Rock
Artists: Kenneth Lavrsen
Composer: Kenneth Lavrsen
Lyrics: Kenneth Lavrsen
Published: 16 Dec 2012
Copyright: 2012