Trance Of The Forest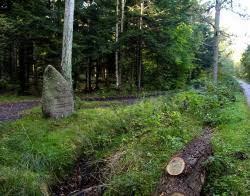 End of April I posted a Danish traditional song which I sang myself.
Stan Loh loved the song and suggested that he would write English lyrics for it. I did an intensive search and could not find that this had been ever done before. So I got pretty excited about the idea.
And Stan really wrote fantastic lyrics that captures the original spirit of the song.
We expect to post a version with a female vocalist in future. But we decided to post this wonderful version where Stan Loh sings both main vocal and backing vocals. But we still hope to post a female vocal version soon.
The backing track is mainly the same I did for the Danish version but naturally I have done a few improvements.
The original Danish version can be found at
ISkovensDybeStilleRo
Genre: Folk
Artists: Stan Loh and Kenneth Lavrsen
Composer: Unknown
Lyrics: Stan Loh
Published: 09 Jul 2012
Copyright: 2012 Lyrics Trance Of The Forest
Composer unknown - Danish traditional
Additional music composed and arranged by Kenneth Lavrsen
Lyrics Stan Loh - (C) 2012
In the still of light you will shower me,
With your peace that floats within.
So I follow your path of tranquility,
Find my soul amongst your trees.
Oh the sway of boughs with fond caress,
My weary bones now rest,
My heart gives thanks to silent lift,
While my soul receives your gift.
Now the light seeps through your fresh lucent leaves,
As the church bell annoints the new,
And each chirp of robins will make believe,
That the dawn again renews.
All the vows of men in harmony,
Fulfil your halls with glee.
I worship most that nature brings,
Oh its beauty makes me sing