Tribute To Diane Rose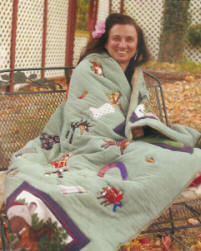 A Tribute to Diane Rose, The Amazing Quilter
Stan Loh wrote this song inspired by a TV program about Diane Rose. A totally blind quilter who is a great inspiration to us all and motivates people to get the best our of their lives.
You can read about her on
http://www.theamazingquilter.com/
Don't miss the youtube video on that page. It moved me when I saw it.
Tribute To Diane Rose
Music and lyrics by Stan Loh
Arranged by Kenneth Lavrsen
Vocal, acoustic lead, steel guitar: Stan Loh
Keyboard playing guitars, bass, drums, and synth strings - and mix: Kenneth Lavrsen
Genre: Country
Artists: Stan Loh and Kenneth Lavrsen
Composer: Stan Loh
Lyrics: Stan Loh
Published: 10 Nov 2012
Copyright: 2012